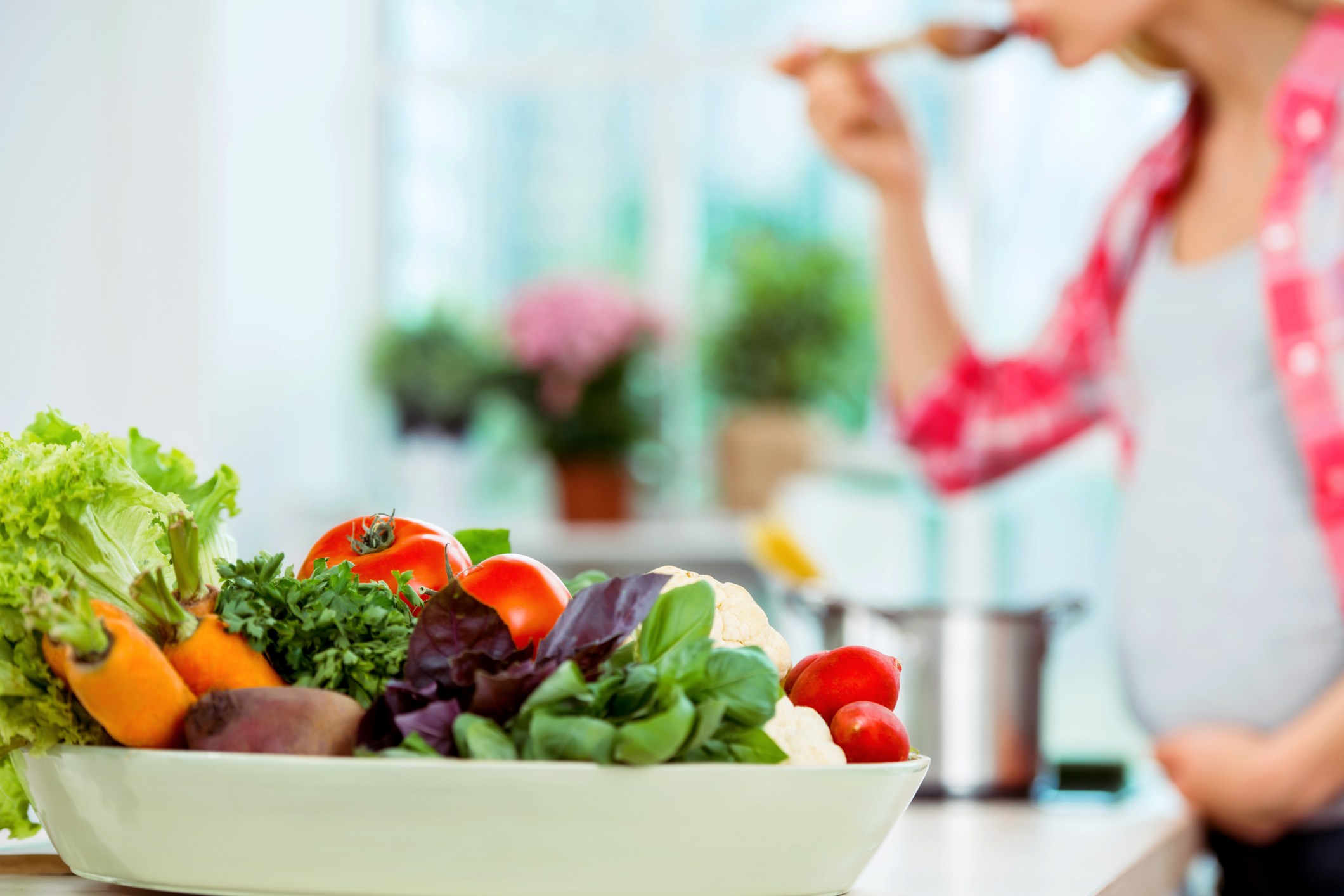 This page may contain affiliate links.
Pregnancy Superfoods
Yes, eating fast food is much more convenient pregnant or not. You may even think it helps with your morning (all day) sickness. I totally get it. I was so sick my first trimester. Eating felt more like a chore than anything. However, when I started eating healthier and discovered some pregnancy super foods, I noticed I had more energy, I wasn't AS nauseous, and I just felt overall better. (Weird I would feel better when I ate better! DUH!)
Here is a list of pregnancy superfoods you can eat while your pregnant that just might change your life.
Kale
In one cup of kale you have 4 grams of protein, 150 mg of calcium, 491 mg of potassium and way more than your daily requirements of Vitamin A and K. I could go on and on. Kale is amazing.  If you eat anything on this list every day, it should be kale. I'm not a huge fan of the taste of kale so I really like to eat it in my smoothies, the fruit masks it but you still get all of the goodness.
Spinach
Spinach is another superfood that is in the leafy green category. So important for you and the baby! Spinach is high in niacin and zinc, as well as protein, fiber, vitamins A, C, E and K, thiamin, vitamin B6, folate, calcium, iron, magnesium, phosphorus, potassium, copper, and manganese. I love spinach so for me I will make spinach salads or even throw some of this in a smoothie too!
Avocado
Avocados are so yummy! I eat them plain, on toast, in salads and evens smoothies. They are high in potassium and monounsaturated fatty acids. Avocados are the holy grail of pregnancy superfoods.
Bananas
Bananas are another holy grail, they can help with morning sickness, cramps, and even feeling dizzy. They offer immediate energy. My favorite way of eating bananas lately is with a scoop of peanut butter!
Yogurt
Yogurt is a great source of probiotics, which are so important in pregnancy. My favorite is vanilla greek yogurt with granola and fresh fruit on top. Greek yogurt is higher in protein than regular yogurt, which will keep you feeling full for longer. This is key in your first trimester!
Kombucha
Kombucha is a fermented drink that is rich in probiotics. It is a great replacement for soda, the fermentation makes it seem like it is carbonated. It is a little spendy so I try to have it on occasion as a treat.
Coconut Oil
Coconut oil is one of those really healthy fats that we should have daily. I use it as cooking oil and sometimes I even put a dollop in my coffee. It has great immune boosting qualities, which makes it an all around great product to have around.
Eggs
If you can stomach them without gagging, try to have them as apart of your breakfast. They are a great source of protein, which can help ward off the nausea. Eggs are considered brain food for your growing infant.
Pumpkin Seeds
Pumpkin seeds are also a nutritional powerhouse wrapped up in a very small package offering magnesium, manganese, copper, protein and zinc. My favorite way to eat them is roasted and salted. They're addictive. You're welcome.
Chia Seeds
Chia seeds are among the most nutritious foods on the planet. They are loaded with fiber, protein, and omega-3 fatty acids. My favorite way to eat these are in a smoothie. They expand when they get wet and have a different texture but they are so good!
Pineapple
Pineapple is high in vitamin C as well as other vitamins and come on, it is some of the most delicious fruit! I myself have been eating all of the pineapple, by itself, in smoothies, on ice cream. So yummy!
There are so many good options to start adding into your daily food intake, good food that is good for you! Happy eating Mamas! Xoxo
---
Parenting Tips
For more parenting tips check out our parenting tips blog!
Tags: eating right while pregnant, healthy eating while pregnant, healthy pregnancy, pregnancy nutrition, pregnant nutrition