Best Infant Car Seats Of 2020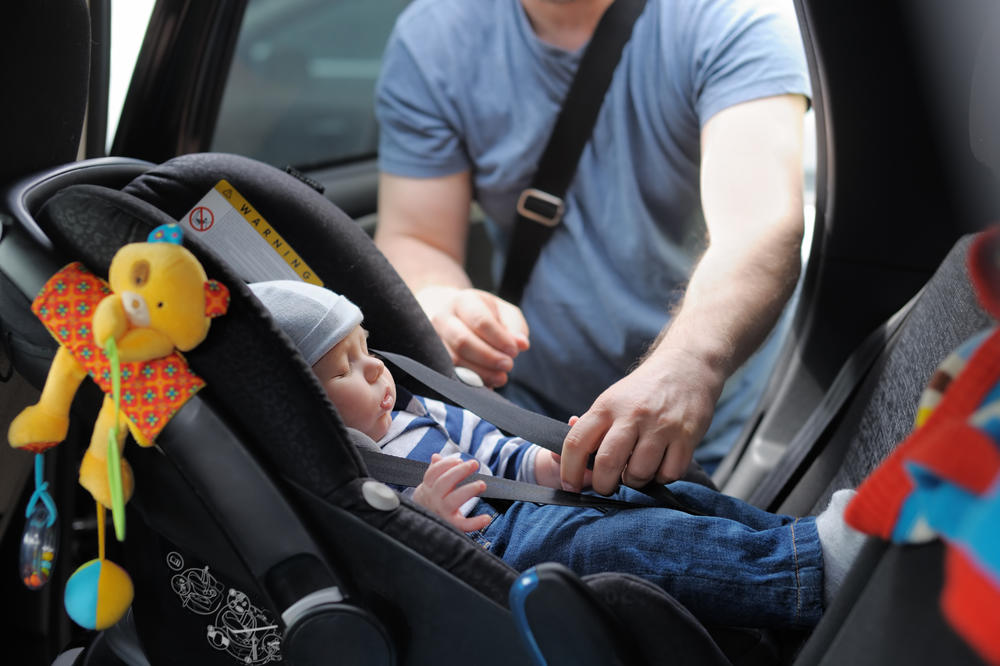 This page may contain affiliate links.
Best Infant Car Seat
Trying to find the right infant car seat for you and your needs can be more than challenging. Aren't all car seats made pretty much the same? The answer is no. It's a bit overwhelming when you first start looking into them. Whether you are just going to the grocery store or going camping, there are so many different models, price points, and featured selling points. Knowing the best from the rest will help you on your search for the right one. So whether you're looking to add an infant car seat to your registry or just looking to buy the best infant car seat on your own, we have you covered!
What Is An Infant Car Seat?
An infant car seat is designed for a baby that is 35-40 pounds and 32-35 inches long. They are also only rear facing, The American Academy of Pediatrics  recommend rear facing car seats until the child is two years old, or until they reach the height and weight of their car seat.  You also have the option of buying a convertible car seat that will grow with your baby up to an average of 50 pounds.
Decisions, decisions!
Convertible Car Seat vs. Infant Car Seat
Convertible Car Seats.

With an average weight limit of 50 pounds or more, convertible car seats can be rear-facing when baby is small or front-facing when baby outgrows the rear-facing height and weight limits.

Infant Car Seats.

Infant car seats tend to have an average weight limit of no more than 40 pounds and can only be used rear-facing. The plus-side? They often come with a handle for easy carrying and transporting into and out of the car—perfect for when you'd rather not wake your sleeping baby. They also come with attachable stroller parts as well.
Things To Keep In Mind When Considering An Infant Car Seat
Whether you buy an infant car seat or a convertible car seat remember to look at the whole picture and weigh out all of your options before buying the best car seat.
How big is your car?

Choose a car seat that will properly fit in your car. If you have a smaller car keep that in mind when you are looking at a bulky car seat. I can tell you it is ZERO fun to try to cram a car seat in your car (especially when you're in a hurry and running late)!

Will you be transfering the seat often from vehicle to vehicle?

If so portability is a very important issue.

Is the car seat easy to clean?

Babies are messy. End of story. Make sure that the cover comes off so you are able to wash it! Nothing is worse than the smell of old milk.

Is it comfy?

No matter the length of the car ride, long or short, a screaming baby is not fun. I promise ensuring that the car seat is comfy will help you keep sane!

Brands and models that have been recalled.

Safety comes first. Make sure that the brand and model you are looking at hasn't been recalled.
2020's Best Infant Car Seats
Best Overall Infant Car Seat of 2020
Cost: $199
The #1-rated Chicco KeyFit 30 Infant Car Seat is engineered with innovative features that make it the easiest infant car seat to install simply, accurately, and securely every time. The KeyFit 30's stay-in-car base has a ReclineSure leveling foot and two RideRight bubble level-indicators to help achieve and verify proper angle in the vehicle seat. The base is also equipped with premium LATCH connectors and a SuperCinch tightener for a secure fit with a fraction of the effort! For alternate installation with the vehicle seat belt, clear belt routing and integrated lock-offs make it easy to position, tighten and lock the belt into place. A smooth underside helps protect vehicle seats from damage.
The car seat carrier includes removable head and body support to accommodate newborns as small as 4 pounds. A five-point harness with one-pull tightening helps keep baby secure, and the carrier shell is lined with EPS energy-absorbing foam for improved impact protection. An adjustable, removable canopy provides shade from the sun.
The KeyFit 30 is designed for travel system use with compatible strollers from Chicco. The carrier secures easily to the base and strollers with a reassuring audible click. A two-position carry-handle and one-hand release make it just as easy to remove.
For use from 4-30 lbs and up to 30″.
Best Infant Car Seat For The Tech Savvy Parent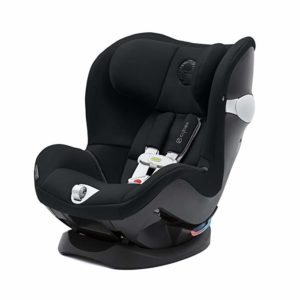 Cost: $263.96
The Sirona M with SensorSafe 2.0 is engineered and designed to provide peace of mind when you drive… and when you arrive.
A 2018 Best of Baby Tech Award Winner for Safety, the Sirona M with SensorSafe 2.0 integrates industry-first smart-tech safety features into the chest clip of the car seat's 5-point safety harness.
Originally developed to prevent the rising number of infant hot car deaths, SensorSafe 2.0 goes a step further, alerting through the vehicle receiver and the caregiver's cell phone when:
‣ A child is accidentally left behind in the car
‣ A child unbuckles themselves while the vehicle is in motion
‣ A child has been seated in the car too long
‣ The back seat becomes too hot or too cold
‣ SensorSafe 2.0 also provides guidance on installation, how-to videos, FAQ's and more all through a user-friendly smartphone app.
Most Affordable Infant Car Seat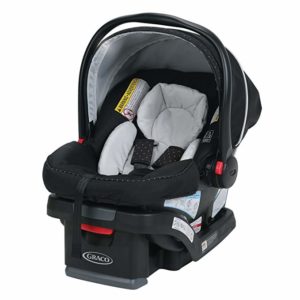 Cost: $127.71
CLICK. That's the sound of a secure install. The Snug Ride Snug Lock 30 infant car seat has a hassle-free installation using either vehicle seat belt or LATCH. In three easy steps you can feel confident you've got a secure install. The unique Snug Lock Technology helps provide a secure install through a simple push. The base with its 4-position recline and easy-to-read level indicator helps eliminate installation guesswork. Click Connect technology provides a secure one-step attachment to all Graco Click Connect strollers making it easy to create a custom travel system that best fits your lifestyle. The Snug Ride Snug Lock 30 infant seat gives moms peace of mind and helps protect rear-facing infants from 4 – 30 lb and up to 30″. Top of Head must be at least 1 inch below the Top of the Car Seat
Best Easy-To-Install Infant Car Seat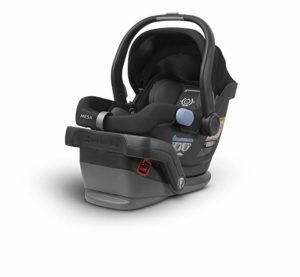 Cost: $299.99
The MESA is designed with intuitive innovations you can see and features that remove the guesswork. Its SMART Secure System combines auto-retracting LATCH connectors and a visual indicator that turns from red to green, providing an installation that is both simple and accurate. Front adjust no-rethread harness with integrated side impact protection as well as a one handed release from both the VISTA and the CRUZ deliver a seat that effectively pairs safety with simplicity. Four position adjustable foot for easy leveling. Built-in lock-off for secure seatbelt installation.
Best Compact Infant Car Seat
Cost: $199.99
The B Safe 35 Infant Car Seat is engineered with Britax's top safety technologies. The rear facing seat features a layer of side impact protection and the patented SafeCell Impact Protection System includes a steel frame and energy absorbing base. The removable infant head pad cushions your infant while providing additional support. Easy installation using SafeCenter Latch and built in lock offs makes it simple to secure the infant car seat base. The B Safe 35 car seat is FAA approved without the base. Thanks to the Click & Go System, you can securely attach the infant car seat to any Britax or BOB stroller to make a brilliant travel system that is perfect for your on the go lifestyle. The B Safe 35 Infant Car Seat can be used rear facing 4 35 pounds, child height 32" or less. Infant Car Seat dimensions 17.75" W x 25" H x 26.5" D, seat area 13" D x 8.75" W, shoulder width 10", harness slot heights 5" to 11".
Best  All-In-One Infant Car Seat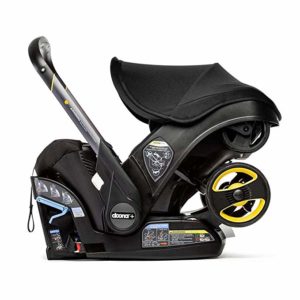 Cost: $499
Doona Infant Car Seat – From Car Seat to Stroller in seconds. The Next Generation Car Seat Doona infant car seat is the world's first complete and fully integrated travel system, allowing you to move from car seat to stroller in seconds. The sleek and stylish design allows you to navigate the streets at ease, without disturbing your sleeping child when hopping in a car, travelling by bus or walking up the stairs. The revolutionary car seat and stroller provides a safe and practical solution for parents on-the-go. Doona is the only car seat to have been tested and certified as an Infant Car Seat, a Stroller and an infant carrier providing overarching safety for your child in all circumstances. With its unique 3-layer side impact protection, Anti-Rebound Bar crash technology, superior 5-point safety harness and ergonomic infant insert, Doona is one of the safest car seats available today. Doona has been designed, alongside medical and engineering experts, to ensure that the baby's body is properly supported in the correct ergonomic position. The Doona Infant Insert's near-flat ergonomic design boosts your newborn's upper and lower back and ensures that your baby's neck and back are ergonomically aligned.
Remember to have your car seat ready to bring baby home. If you are getting everything organized and ready to bring baby home after the birth check out our
Hospital Bag
prep blog in order to make sure you have everything you need.
For more baby product advice check out our Best Baby Products article.
Tags: best car seats, best car seats 2019, best car seats 2020, car seats, convertible car seats, How To Shop For A Car Seat, infant car seats