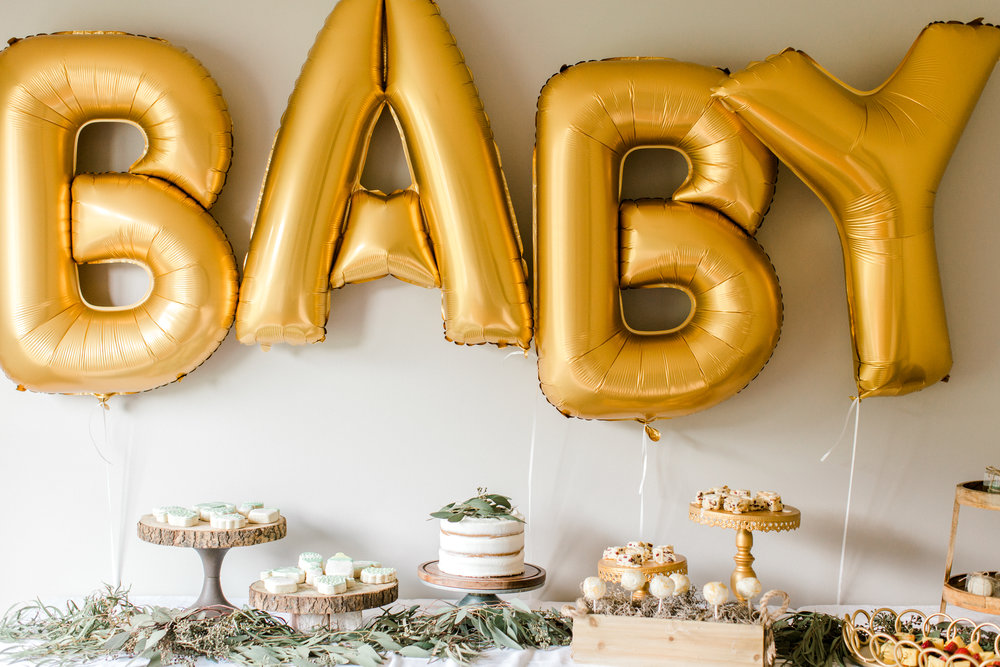 This page may contain affiliate links.
Baby Shower Planning Doesn't Have To Be Stressful!
Your friend is inching closer to her due date, which means it's shower time! Even if you've never decorated in pink or blue or bought anything with little animals, you can totally pull this off. With our help getting organized has never been easier! From tips and tricks for invitations, venue, menu, games and activities – you will pull off the greatest baby shower ever.
Who should throw the baby shower?
Anyone who's close to the mom-to-be can host the baby shower. That means a friend, coworker, neighbor, sister, sister-in-law, aunt or even mom. If it's too much for one person to tackle, team up to share the planning and expenses.
---
When should you have a baby shower?
Hosting the baby shower when the mama is anywhere from 28-35 weeks pregnant is ideal. This is because she is still feeling energetic and has a cute manageable bump. The later on that the party is held the bigger the belly which means the more uncomfortable she will feel. This also gives her time to exchange duplicate gifts (no one needs 4 bottle warmers), fill in what's missing and get the nursery set up with her new stuff!
---
How long are baby showers?
A baby shower usually runs 2-3 hours.
---
Where should you hold a baby shower?
Popular spots are private homes, restaurants, church halls and tea rooms. A private home has the advantage of keeping costs down, especially if you use your own dishes. One place to avoid is the home of the expectant mom, because she'll invariably end up answering the door and checking that everyone has a drink. Let her be a guest and be able to enjoy her party!
---
Who do you invite to a baby shower?
Who you invite to the baby shower will set the mood for the event. Think of if you want it to be a female only event where women can be honest and share labor stories, or if you want it to be more like a cocktail party with men and women. Another thing to factor in is if you think the father-to-be would enjoy being apart of this special day. Assuming the party isn't a surprize, ask the soon to be mama to supply an invite list with names and contact info of the people she would like to have there.
---
When do you send baby shower invites?
Baby shower etiquette calls for sending invitations four weeks before the get-together, which gives guests plenty of time to shop for a gift and, if necessary, get time off from work and make travel and child-care arrangements. Make sure to include the RSVP contact, date, time, registry info, and venue.
---
What do you serve at a baby shower?
Since most showers are afternoon affairs, keep the menu light and flavorful. Savory tarts, quiches, salads, soups and pasta dishes go over well, as do finger foods such as bruschetta, stuffed mushrooms and deviled eggs. Take into consideration that the mom to be (and any other pregnant women there) won't be drinking, so serving a light and fruity mocktail will be appreciated.
---
What do you do at a baby shower?
Yes, eating, drinking and opening gifts are the main event, but games and activities give your shower personality and make it more meaningful and fun. You might ask guests to bring a piece of advice specific to this shower—for example, about having a boy, having twins or having a baby in the city. Or maybe each guest brings in a bucket list for baby's first year. A big trend these days is a gender-reveal surprise, where the mom-to-be opens a box filled with colored balloons and everyone gets to watch the pink or blue balloons float into the air. Then there are games like baby pools. Where you set up a calendar and each guest guesses on when the baby will actually arrive (ps our site does all this for you!) There is also games like baby bingo or pin the diaper on the baby. Or let everyone get their craft on by decorating plain white onesies with washable markers. What a way to give baby a custom wardrobe!
---
Do you have to have party favors at a baby shower?
No one will notice if you skip this step, but it's nice to send guests off with a token of appreciation. Whether it's a single scrumptious French macaron or mini bottle of nail polish in your shower hue, or a bag of flavored popcorn for a Hollywood movie theme. There's no need to spend more than $2 to $3 per person (remember you are funding this whole thing!)
---
Can you have a baby shower for a second or third baby?
Why not? All new life is worth celebrating. A baby shower for a second or third child, sometimes called a sprinkle, is especially appropriate if there's a big age gap between the expectant mom's children or if she's having a baby of a different gender this time around. And if Mom is well stocked on baby gear but you still want to throw a party, consider having guests bring small, practical gifts like diapers, wipes and pacifiers.
---
Is the BabyBety online baby pool guessing game a good idea for a baby shower?
YES! You can set your online baby pool up before hand and encourage your guests to put in their best guesses before the baby shower or you can dedicate some time during the baby shower and have everyone make their guesses then. Get more ideas.
---
Virtual Baby Showers
At times, gathering together for a baby shower just isn't possible. That doesn't mean you can't participate in the fun! Learn more about how to host a virtual baby shower.
Planning a shower can be stressful but try not to let it be, this is an exciting time! The most important part is that everyone closest to the mom to be, is there and having a great time. Everything else will fall into place! Happy planning!
Tags: babies, Baby shower, Baby shower games, baby shower ideas, how to throw a baby shower